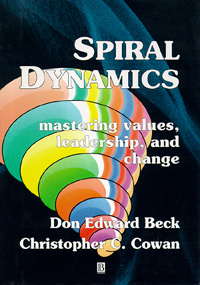 About the book, Spiral Dynamics . . .
Spiral Dynamics reveals the hidden codes that shape human nature, create global diversities, and drive organizational change. This fresh perspective integrates the pioneering work of Dr. Clare W. Graves in emergent thinking systems and value structures with memetics, the exciting new science of ideas and their movements. Through the STREAMS and TEMPLATES frameworks, it offers specific guidelines for designing better organizations, improving communication, more effective leadership, and enhanced interpersonal relations based on how people -- as individuals and groups -- sense their worlds to be now and what they are likely to become next.
Now available in Portuguese! Click Here for information
Also available in Dutch! Click Here for information
Reviews from Amazon.com
Summary by Steve Dinan, Esalen Institute
Chapter Outline
NEW! Complete Text of Chapter 1 in English or Spanish language
Summary Comments by Ronnie Lessem, CUBS, London
Bibliography from the 1st Edition; Expanded Bibliography by Alex Burns 04/01

From Blackwell Publishers, Oxford, 1996, ISBN 1557869405
USA orders to 238 Main Street, Cambridge, MA 02124, phone 1-800-216-2522 or your local bookseller. UK and rest of world phone 44 (0) 1865 382308.
---